NRG Stadium Seating Chart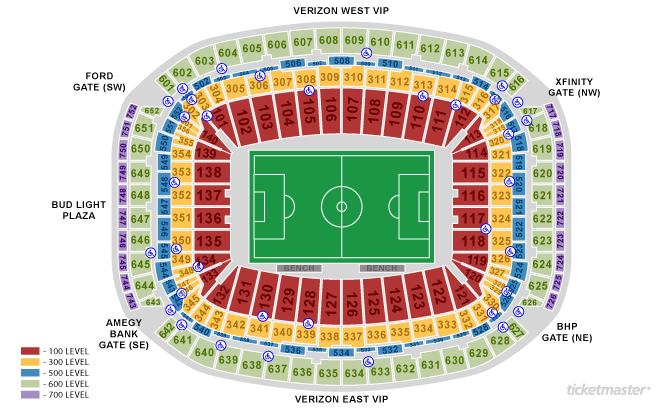 NOTE: Seating layouts can vary for different events. Make sure you check the individual event seating map when selecting your event tickets.
It is one of the venues with the largest seating capacity. One night, during The Cowboy Rides Away tour, attendance was at a record breaking 80,020 fans.
The seating charts look different during concerts and this for obvious reasons. During most concerts, the seating charts are usually divided into five.
The Field Level seating is usually the closest to the action. The seating area is next to the stage and therefore could offer someone seating there not only a close-up view but also a chance of having physical contact with the performing artists. The field level seating is also, understandably, where the rows of reserved/VIP seats are located. The field level seating may also contain a general admission area separated from the reserved area but with no seating options.
The Lower Level seating is next to the field level. It includes all the seats in the 100 level. The seats run down to the point where the field begins and are arranged in such a way that the next seat is a little higher than the previous seat, continuing across the entire stadium. This ensures that everyone gets an uninterrupted view of the stage.
The Club Level comes immediately after, located halfway up the stadium. This is where fans sit when they want to get a good view of the stage without having to peek into the big LED screens every now and then.
On the 500 level section of the stadium is where the Loge Level seating is located. The view from here isn't that great but it is the best place to sit if one wants an aerial-oriented view of the action on the stage.
The Grid Iron level seating is usually the last, located on the 600 level section right after the Loge Level. Thus, the view of the stage from here is almost impossible and is entirely dependent on the aid of the big LED screens.
This seating arrangement is determined solely by the price of the ticket with the Field Level being the most expensive and Grid Iron Level being the most affordable accordingly.
Also, fans can purchase handicap/accessible seats at the NRG Park ticket windows or from here whenever they are available.
Reserve your seat today by securing your tickets!
For more information on the ticket policy and our recommended and preferred ticket provider please view the NRG Stadium tickets page.
For all the upcoming events at NRG Stadium please view the NRG Stadium events schedule page.